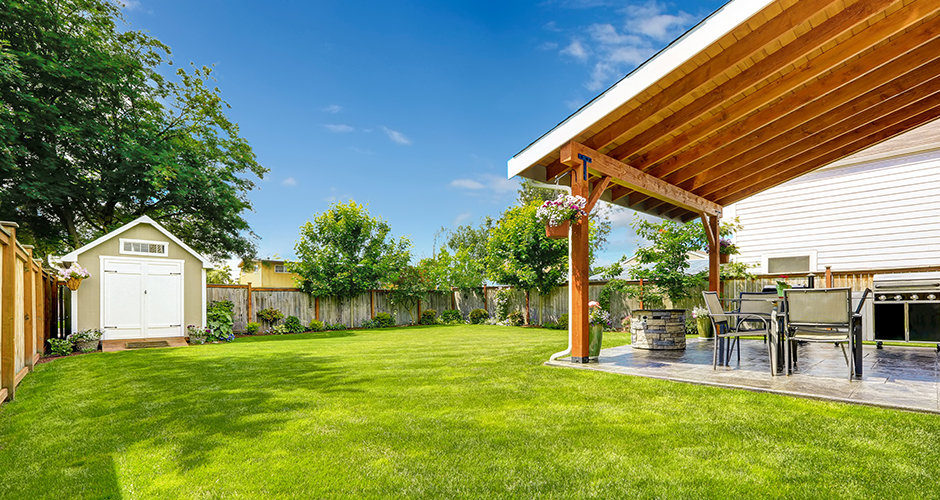 We'll be spending a lot our summer enjoying the great outdoors at home this year, and with spring in full swing, it's a great time to make our surroundings beautiful.
There's nothing more Canadian than spending time enjoying our summer weather and the nature around us. That's why ENJO is the best tool for the Outdoors: Cleaning with water and ENJO fibres means getting the best results while protecting our plant life, groundwater and our local wildlife.
Outdoor areas are often neglected during the long winter months and it doesn't take long for unused spaces to quickly build up a layer of dirt and grime, and for weathering of surfaces to occur.  ENJO makes quick, easy work of this dirt and grime, giving you more time to enjoy the great outdoors. 
The top ENJO tools and this 5-step checklist is all you need to get your outdoor spaces clean and ready to use.
1. Sweep up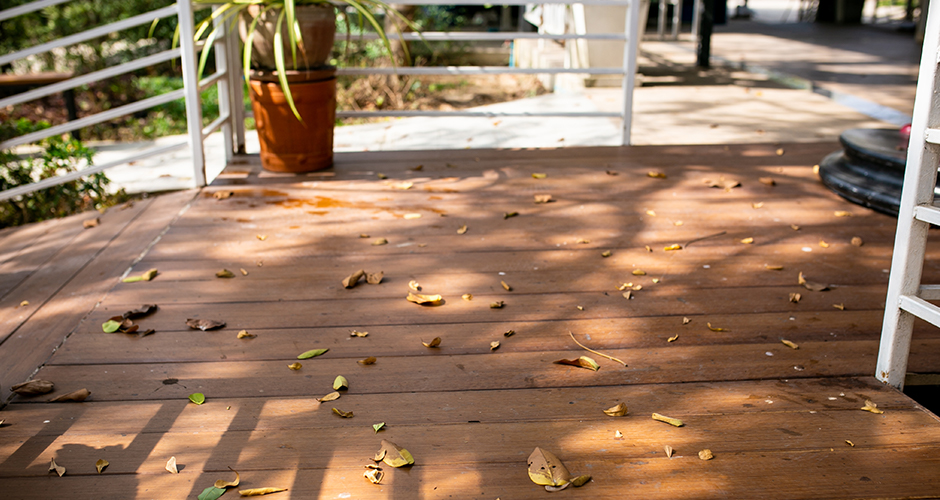 Over the winter months your outdoor spaces and gutters have likely filled with leaves and debris that has been blown around in the cooler weather.
Use the ENJO Outdoor Flexi to clean dirt and debris out of vents, pipes and eaves on the house.
Simply sweeping-up or blowing old leaves into a pile makes the world of difference for patios and lawns.
Don't throw out your green waste! Composting leaves is a great way to recycle and create nutrient-rich soil.
2. Clean your outdoor furniture/fixtures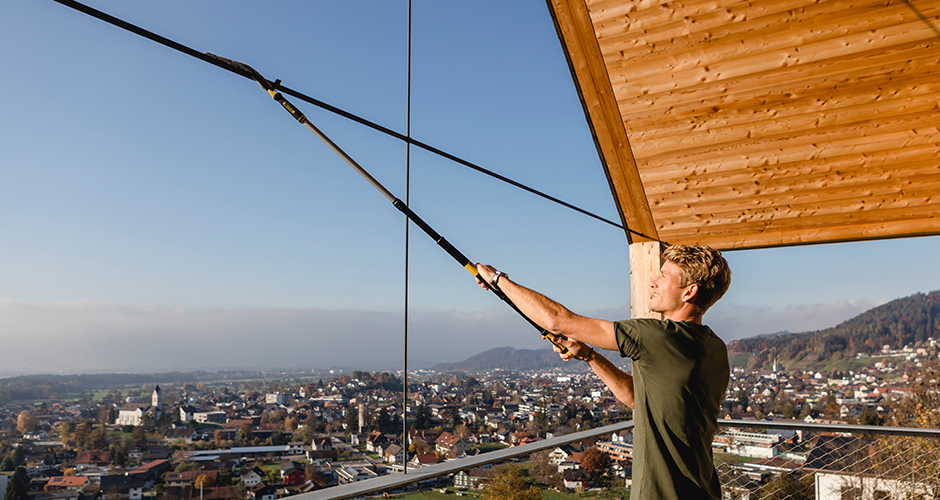 Cobwebs, dirt, algae and dirt will have built up on your furniture and fixtures over the winter, making your outdoor spaces far from welcoming.
Start by pulling down cobwebs and cleaning light fixtures first.
The ENJO Outdoor Flexi is perfect for cleaning the tops of window frames and light fixtures where cobwebs and dirt have gathered.
For extra height, attach the Flexi to the Telescopic Pole.
Once you've cleaned up high, go for the items at ground-level: the furniture!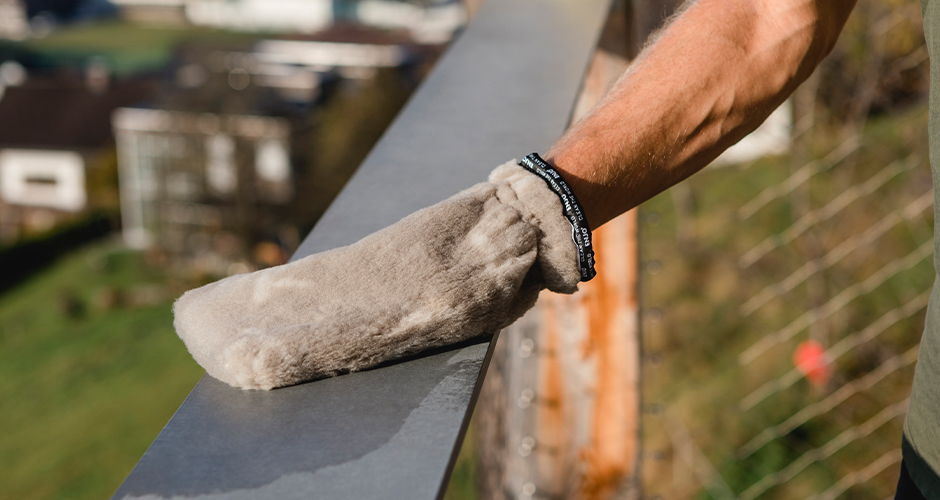 The Outdoor Glove and ENJOfil are a great duo for cleaning outdoor chairs and tables, as well as canvas cushions and seat covers.  Just add water to lift away dirt and then use the Outdoor ENJOfil to dry behind.
For particularly stubborn stains, add more water, and boost your cleaning power on hard surfaces by adding a small amount of Marble Paste.
3. Wash your windows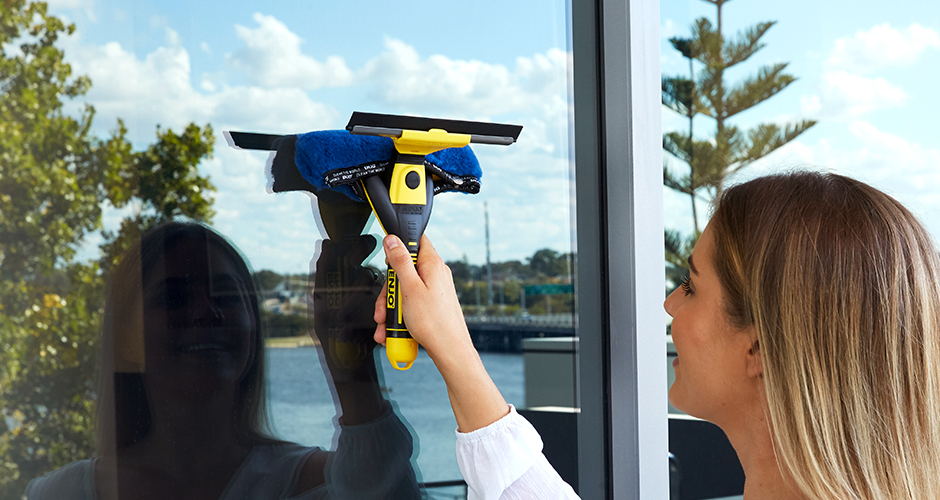 Let the spring/summer sun stream in without any unsightly marks and smudges.
Cleaning your windows always seems like a big task, but with the right tools it couldn't be quicker or easier.
The ENJO Window Combiwiper makes cleaning your windows super easy, particularly if you have hard to reach windows.
Spray water to the attachable fibre or directly onto your window (or both if your windows are really dirty). The unique fibres loosen and lift dirt, drawing the dirt into the fibre by capillary action.
Simply turn the window cleaner around to blade away the dirty water using the rubber blade. Dry off the blade and any excess water from the glass edges and corners with the Window ENJOfil.
Without a single spray cleaner, you'll have streak-free, crystal clear windows that look professionally cleaned, with no streaks or residue!
(click the photo to read)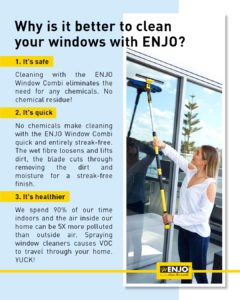 4. Clean your patio or deck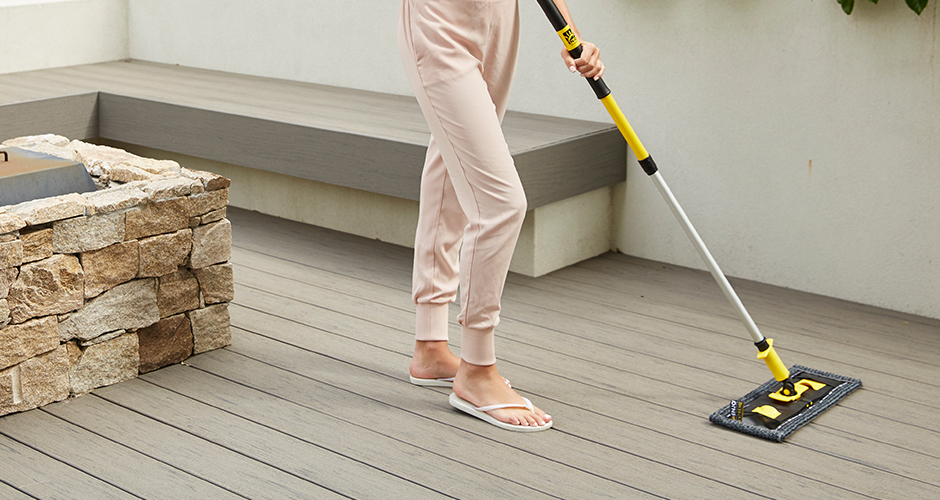 Throughout the seasons, dirt, grime and algae form a layer on any paved, flagstone or decked areas, and the surface can also become weather-beaten from rain, snow and cold temperatures.
If the area is exposed to the elements you may also find moss growing.
Avoid messy high pressure hosing and invest in the ENJO Floor System and Extreme fibre to clean your deck or patio.
Made from an extremely durable material, this fibre is designed to tackle dirt built-up on uneven outdoor surfaces using just water.
It's also perfect for removing algae from tiled swimming pools and moss from brick facades.  The rough fibres offer pore-deep cleaning action on extremely dirty outdoor surfaces such as limestone, brick paving, non-oiled wood deck, composite and concrete.
Thoroughly wet the Extreme Floor fibre and surfaces before you start cleaning, and to use a back & forth motion.  Don't apply a lot of pressure; let the fibres do the work.  Rinse afterward.
5. Clean your barbecue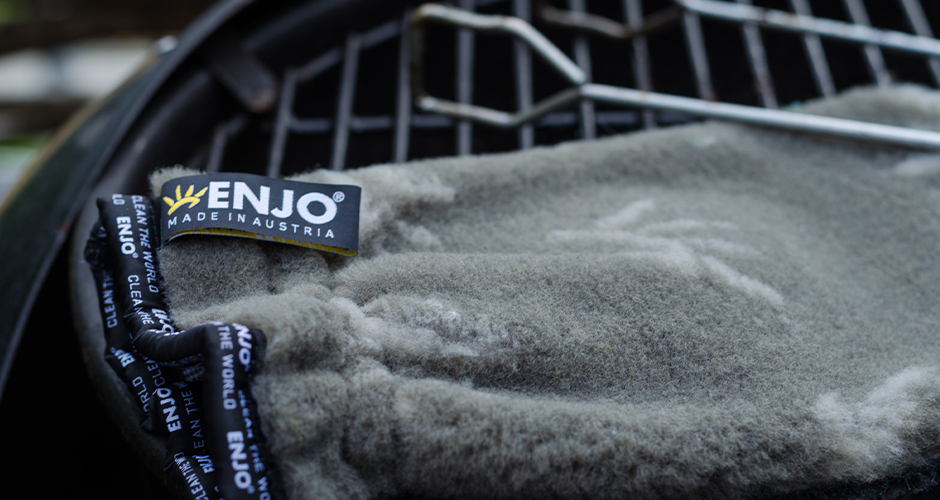 We ALL know that Canadians barbecue year-round, but grilling season really moves into full swing during late spring and lasts through the summer!
(click the photo to read)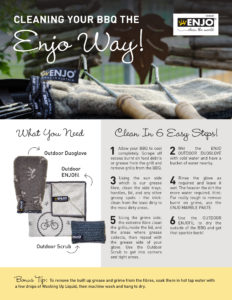 ENJOy the spring/summer and together, let's make a beautiful world.
Want to learn more?  Book an ENJO Cleaning Class!