The holidays are a time for fun and family, but it can be stressful, wasteful…and messy.
With a little pre-planning, you can reduce the stress and mess with our top secrets for a clean home and stress-free festive season – leaving more room for joy.
1. Put a plan in place
The holidays are, as a rule, a busy time of year.  Finding time for household jobs and feeling on top of your game gets increasingly harder as the big days approach.
Making a list of jobs that need to be completed on the countdown to Christmas can instantly make things more manageable.
Make your list, and check it twice!  Keep it in a place where you can refer back to it, and make sure you check things off as you go…and celebrate the little wins! 
Cut out small time blocks in the evenings (as small as 15 minutes) for the small jobs and reserve big jobs like cleaning out your car or cleaning your windows, for weekends.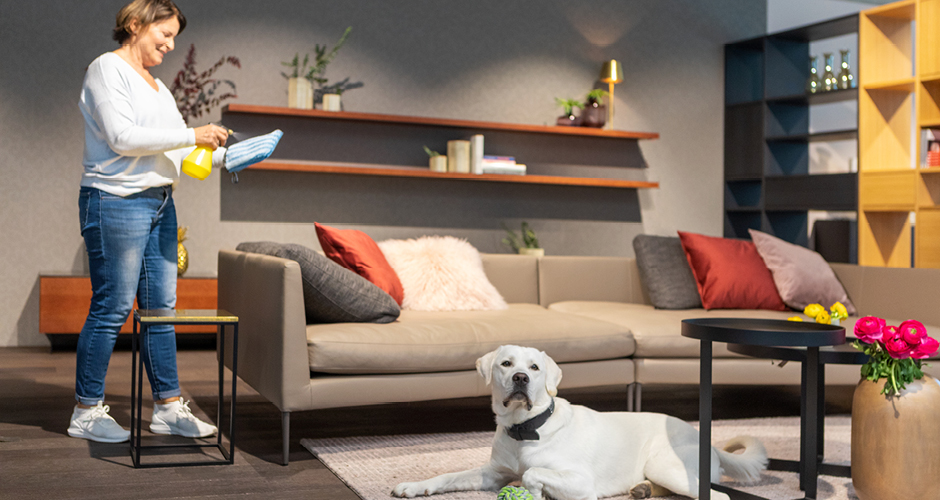 2. Start with a clean slate as you decorate
Decorating your home for the holidays is the perfect time to clean all those common parts of the home where we don't usually clean.  
One big deep clean before you decorate gets the holiday season off to a clean start.
When moving furniture to accommodate a tree, be sure to give the walls a dusting behind, and the floors a quick clean underneath and in behind. 
Dust or wipe down ornaments as you remove them from their storage bins – it will help to reduce the allergens in your indoor air, and will help to maximize the sparkle. 
Scale back on ornaments as you open your holiday bins.  Consider donating unused decorations to shelters or selling those that hold little meaning or value to you.   
Scale back and remove furniture if needed to make room for your tree or other décor, to prevent a crowded feeling and generate a calm environment.  Make sure there is enough room for the family to gather and for kids to play in the weeks leading up to the big day.  
3. Create a budget
It's easy to allow spending to get out of control during the holiday season, which can add to stress during this season and into the New Year.
Putting a budget in place (one that allows for unseen expenses) helps decrease stress levels and encourages the holiday season to run more smoothly.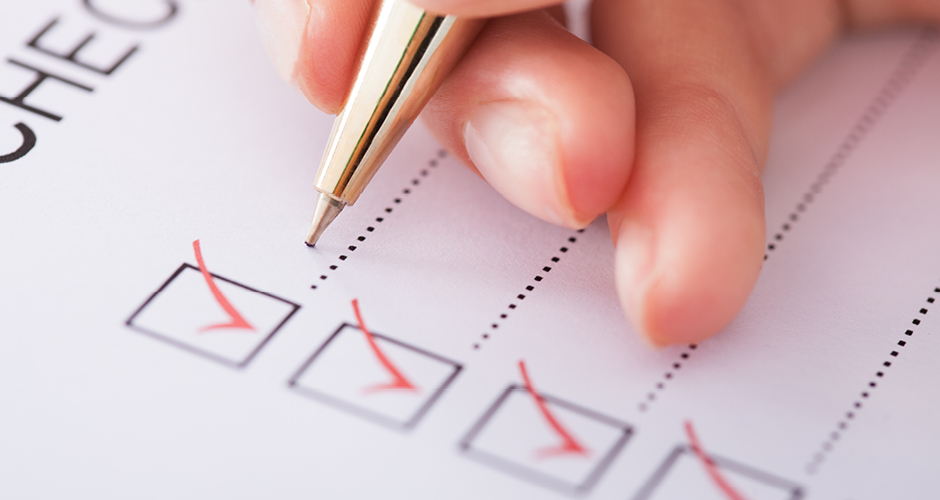 4. Prepare your shopping list
A shopping list will not only help you finish more quickly (leaving more time to tick tasks off your to-do list), but you're less likely to forget items and have to make a repeat trip.
Creating a list and sticking to ingredient quantities is also a great way to help reduce food waste (and your shopping bill).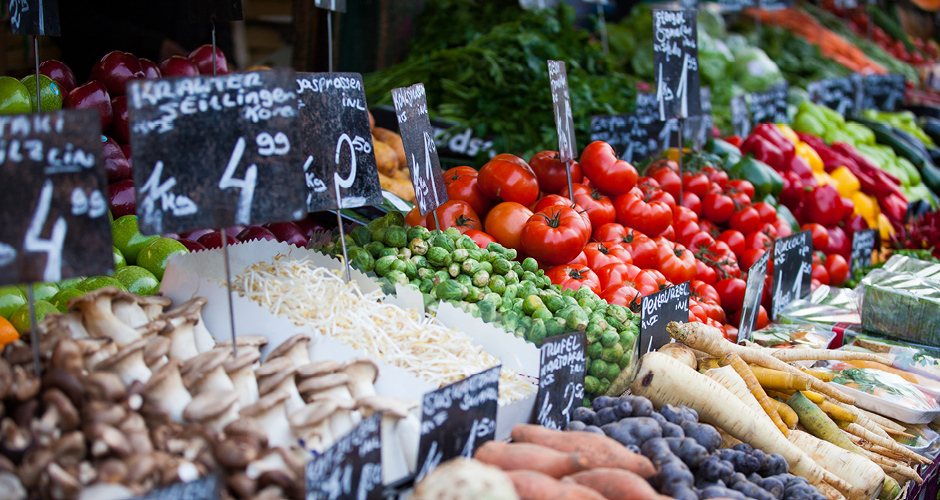 5. Shop local
Shopping local not only helps the local economy, but can help YOU as well – you're staying close to home (or having purchases brought to you), you can get to know the people serving you, and you're supporting a local business person, who is a community member or even a neighbour!  
Tune into local groups and look around for local businesses you can support this year. Whether they've got a small shop, an etsy online shop, do hand-craft at home, or are a direct seller sharing a trusted product, you can be guaranteed your service will be top-notch, and your business will be appreciated! 
---

---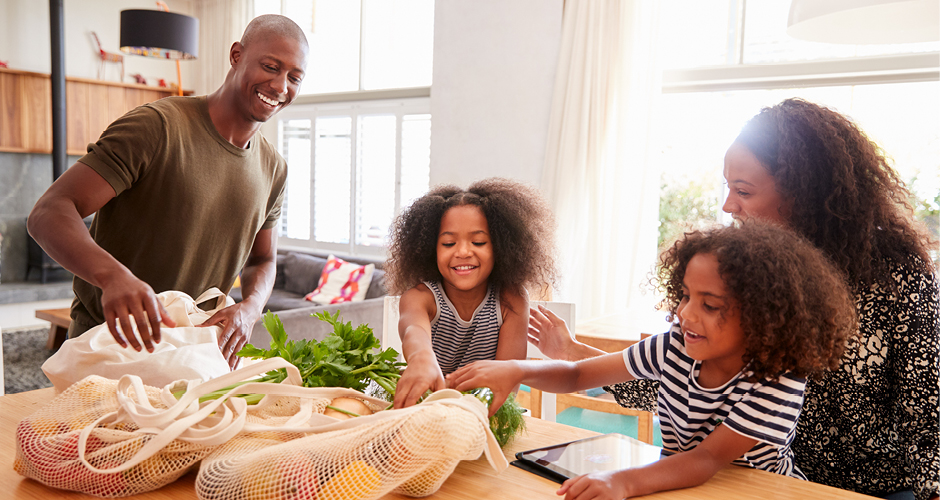 6. Remember your reusable shopping bags
Using your reusable shopping bags has so many benefits, and not just for groceries, but also for your holiday shopping. 
You can carry your groceries – and your holiday gift purchases – more comfortably.
You're not paying for bags at the checkout and contributing to the plastic problem. Plus, you're not creating more household waste, or an unsightly cupboard stuffed full of plastic bags.
7. Clean and organize your fridge
Never a fun task, but a clean and organized fridge will make your holiday season a whole lot happier.
ENJO's Kitchen Duocloth and ENJOfil are perfect for simple, fast cleaning of your fridge, wiping down shelves, walls and drawers and leaving you with a clean space (without a single harsh chemical) to reorganize the contents.
Plan to use up foods that may go out of date and make sure you leave room to store all your holiday feast leftovers!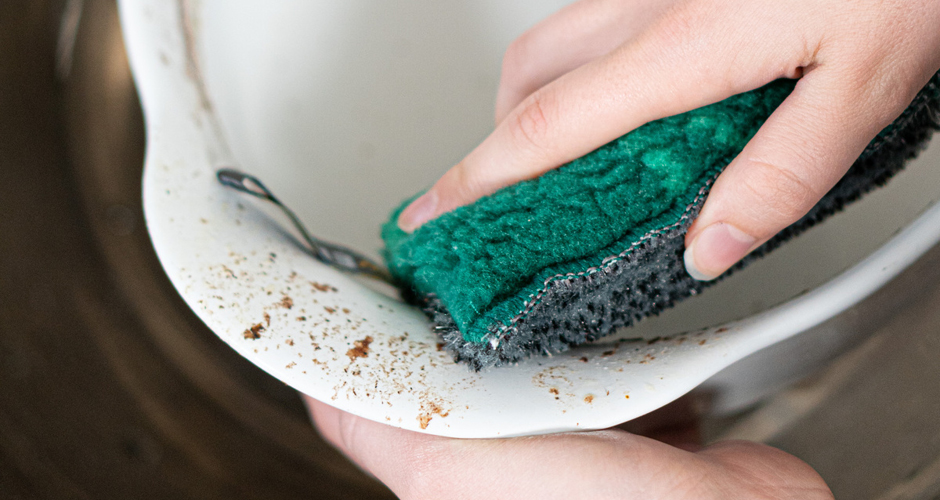 8. Get ready for dirty dishes
The holidays always mean more cooking and baking, and of course that brings more cleaning.
Be ready for all dishes, including roasters, pots and pans with ENJO's Kitchen Scrub and Orange Blossom Washing Up Liquid.  A few drops of this degreasing formula will help to make cleanup faster and simpler.
These powerful pieces last 3 years, which helps to reduce disposable sponge waste, and ensures you're never without your washing-up essentials.
Of course, more washing up means more drying too!  One of the most versatile tools in your kitchen, make sure you have enough ENJO Tea Towels at your disposal.
Choose quality over quantity – ENJO Tea Towels, our most absorbent fibre, dry dishes quickly and don't leave behind any fluff!  Keep one near the sink and a few in the drawer for easy access.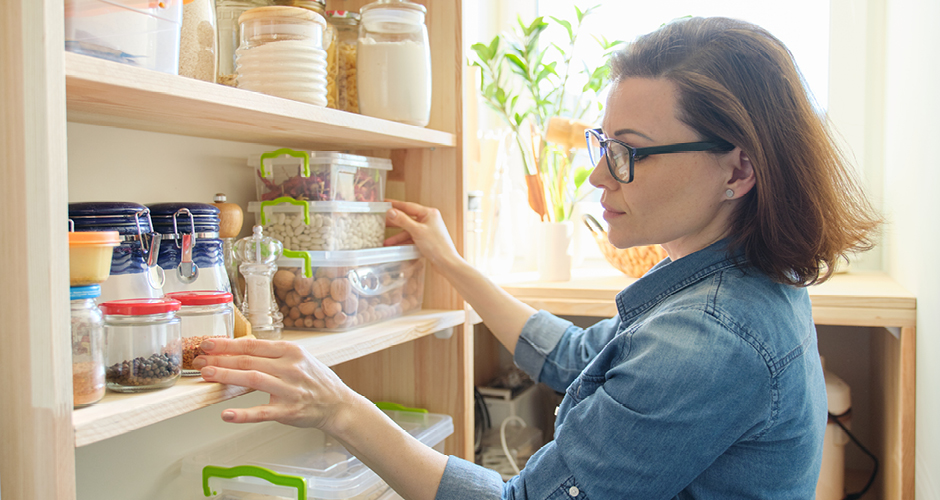 9. Reorganize your pantry
Cluttered pantries happen, but searching for what you need can slow you down, and makes baking and cooking that much harder.
Take time to reorganize your pantry and wipe down the shelves – and, you can take stock on your holiday dish ingredients while you're in there.
If you're cooking up a meal that uses lots of herbs and spices, separate these out and place them in a box or container for each recipe.
10. Stock up on snacks
Don't go overboard, but having snacks handy is always a good idea during the holidays.
Festive nuts, cheese and crackers, cookies – choose a few family favourites to have on hand for fewer trips to the store and for those unexpected festive moments.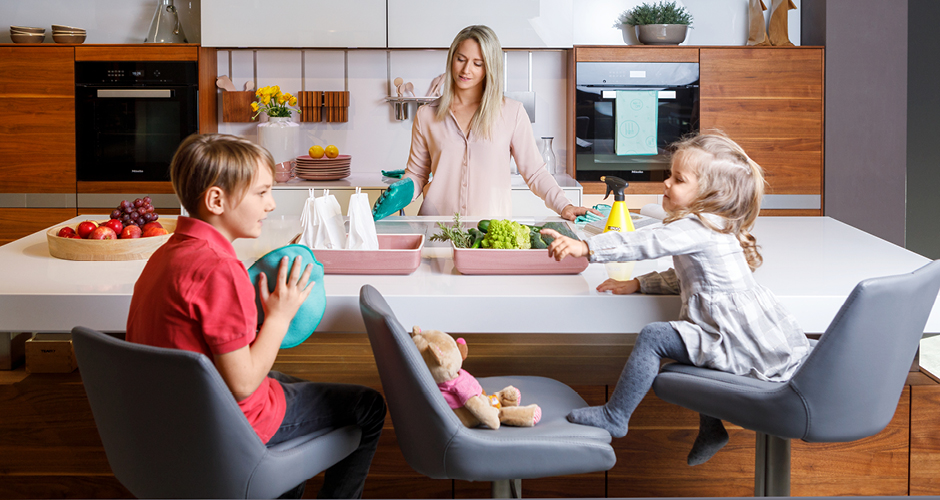 11.

 

Make time for meal prep
Stress a whole lot less throughout the season by doing some advanced food prep – not just for the holiday feasts, but to keep you energized and healthy in the weeks leading up to the big day.
Before you grocery shop each week, sit down and write out breakfast and lunch options, as well as the planned dinners.  This will help you to shop smart, reduce waste, and you'll feel relief in not having to be creative each day.  
After shopping, use ENJO's Fruit and Veggie Cloth to clean all your fruits and vegetables, then peel, chop and store in the fridge as necessary.  This helps to ensure that meal preparations are smoother, and makes it easier for the family to grab healthy foods on the go.
If possible, cook in batches, so that you can freeze some dinner portions ahead of time.  This will reduce your stress on busy weeknights. 
As the big day gets closer, measure out ingredients for other recipes ahead of time, this will be a big time-saver and will help keep your kitchen workspace clean and clear on the day.
12. Clean your oven NOW – really!
A clean oven is more effective – which is what you want when cooking and baking this time of year! 
Keeping it clean without chemicals is quick and healthy – no more toxic fumes.
Remove buildup early in the season using cold water, the ENJO Kitchen Scrub, Duoglove and ENJOfil.  For stubborn buildup, grab your Marble Paste to boost your cleaning power.  
Once it's sparkling, think maintenance – by taking 5 minutes each week to give the oven a wipe with the Kitchen Duoglove and cold water, followed by a dry-behind with the ENJOfil, you'll leave it sparkling for the holidays.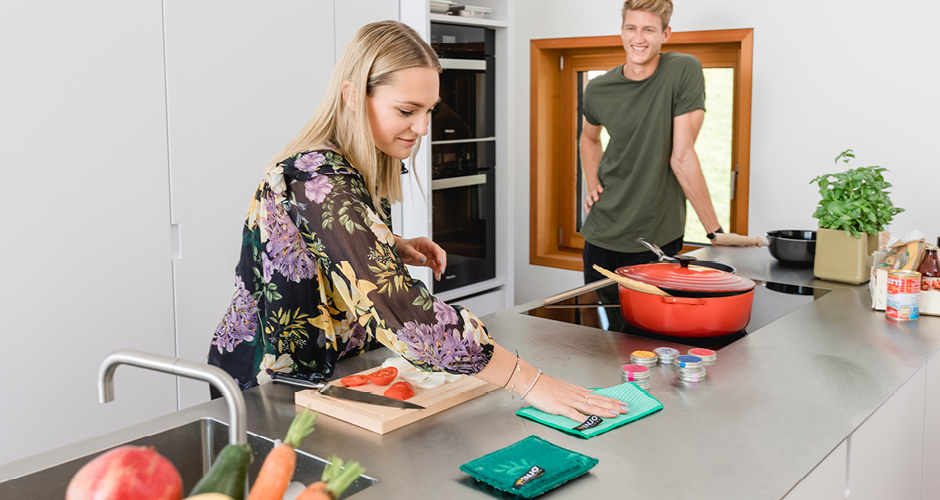 13. Remember to clean as you cook/bake
It sounds so simple, but when you're in the middle of cooking numerous dishes, the kitchen can descend into chaos quite quickly.
Before you start cooking make sure you have your ingredients organized, your recycling bin and compost bin easily accessible.
Keep your Kitchen Allpurpose Cloth at the ready and wipe down surfaces with cold water as you go.  (Remember to allow all hot surfaces to cool before cleaning with ENJO).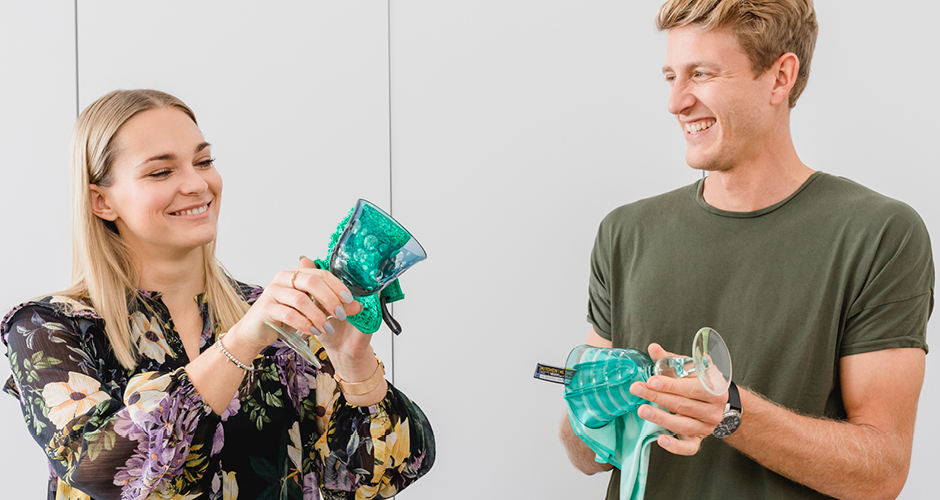 14. Plan your table trimmings
This year, more than ever, bring joy into the holidays. Get the kids/family involved and think about how you would like to set up your table ahead of time. Add decorations and name settings to make it extra special.
ENJO's Cutlery and Glass ENJOfil is the perfect tool for bringing back the shine back to your best cutlery and glassware.
Dress and lay the table the night before any special feast you're planning – it takes little time, but can mean one less task "on your plate" when preparing to celebrate with family.
Canadian household waste rises by up to 25% over the holiday season, and your table/feast can be a contributor!  Give some consideration and plan the supplies you're using, as a few easy swaps can help to reduce your home's waste considerably over the holidays..
Real cutlery, plates and glasses over paper and plastic disposables.

 

Even if you don't have a full set for those at your table, mismatched and vintage are on trend!

 

Cloth napkins that can be popped into the washing machine and reused for years.
Beverages – what can be purchased in family-size bottles as opposed to single-serve?
More natural décor, as opposed to plastic and metallic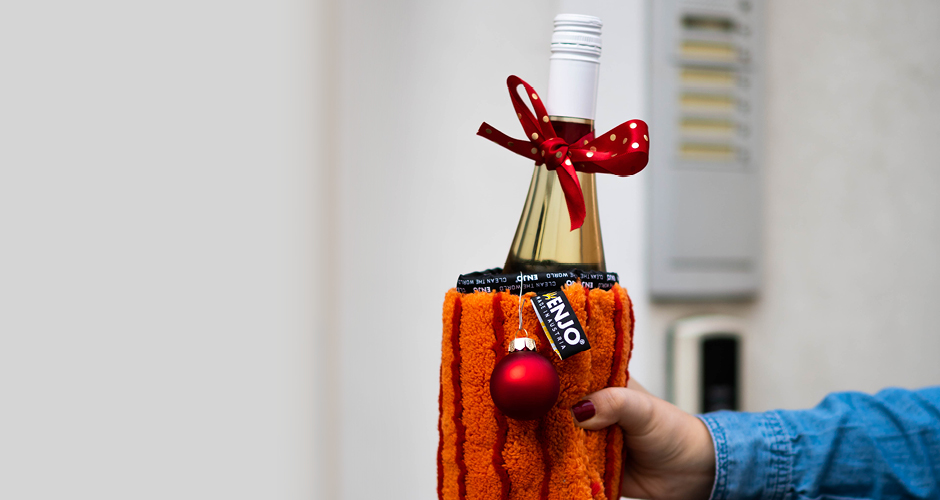 15. Keep your gift wrap waste-free
Wrapping paper is one of the biggest contributors to waste during the holiday – it is estimated that Canadians throw out about 540,000 tonnes of wrappings and gift bags at the holiday season.
Because of plasticized coatings and metallic inks, wrapping paper can't be recycled and just adds to your household waste.
Keep wrapping waste-free where possible and be ready with a box to save used wrapping paper for another day.
Consider your gifts and wrap with intention this year.  Plain craft paper makes a nice natural alternative, or use part of the gift (such as a Tea Towel or even an ENJO Glove) as an outer wrapping.   Secure wrappings with reusable cloth ribbon or twine, and decorate with natural pieces such as raffia and real pine twigs.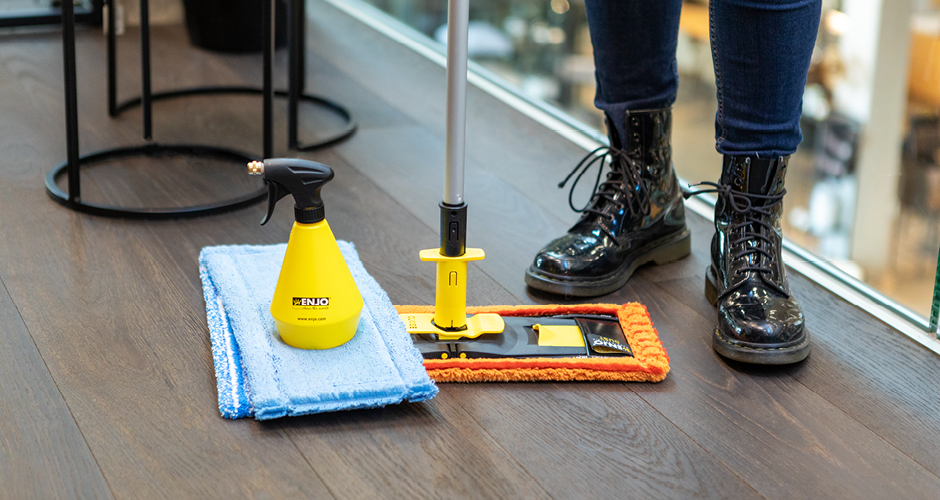 16. Dust daily — and stay on top of your floors
With all the extra trimmings and decorations, there are more places for dust to settle, lending to poorer indoor air quality. 
Assign the job of dusting daily to one of the kids – or alternate days!  With the ENJO Dust Glove, there's no sprays or polishes needed – just a dynamic fibre that glides easily and powerfully traps dust, removing it from your home environment. 
With the hustle and bustle, and winter weather, our floors can also take a beating this time of year.  
Just a few moments with the ENJO Floor System and Dust Fibre can keep the floor clean and free of dust and dirt, and a quick 5 minute wipe over with a Floor Cleaning Fibre can make all the difference to your outlook.  All in about the same amount of time it takes to brew a relaxing cup of tea!
Again, assign "Floor Duty" to one of the kids.  ENJO's ergonomic floor system is adjustable and simple to use – ensuring a great clean, no matter who's in charge.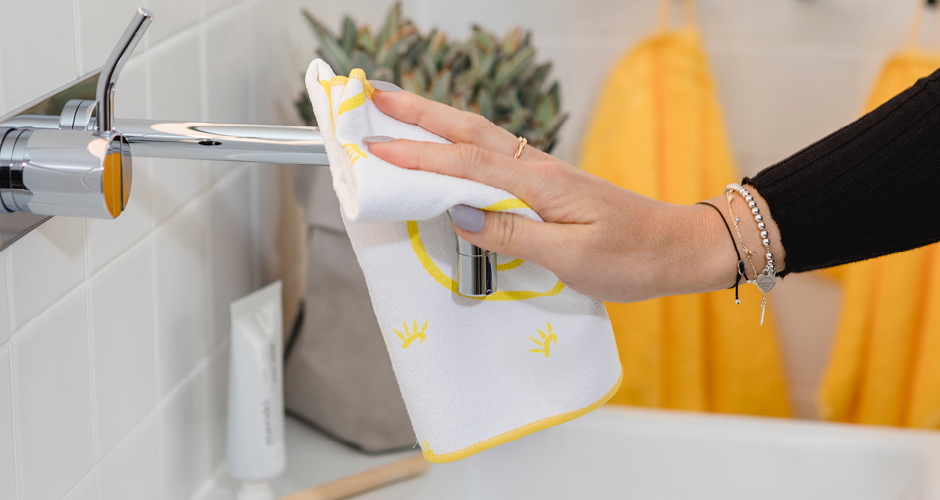 17. Make daily and weekly cleaning as simple and fast as possible
It takes 22 minutes, on average, to clean a bathroom with the traditional cleaners and methods. 
Cut your time by at least 50% by using ENJO's Bathroom Zone and cold water.  No spraying, waiting, scrubbing, rinsing, changing cloths.  No wasting paper towel and throwing out cleaning chemical bottles.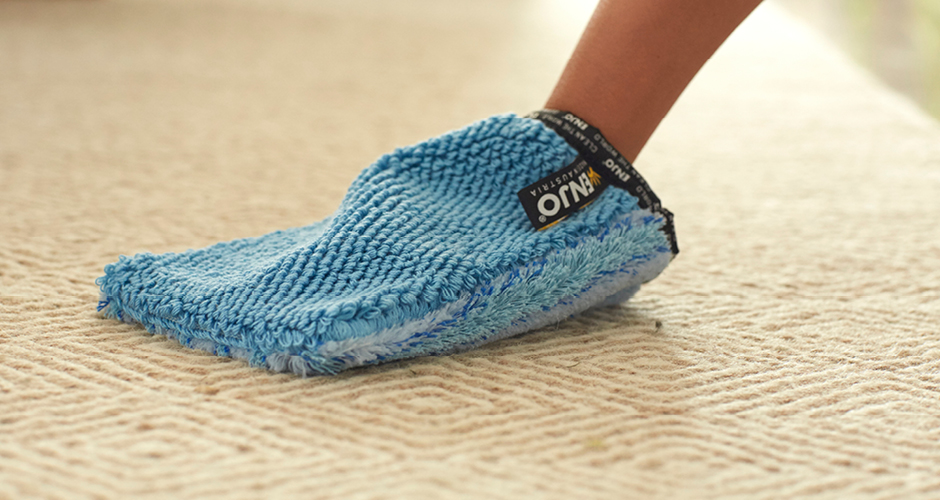 18.

 

Expect the spills
Gathering around to enjoy the festivities increase the opportunity for spills.
Don't let spills on table cloths, clothes, carpets or furnishings ruin your holiday season;  spills of food and drink – even red wine can be cleaned up easily with ENJO's Living/Soft Textile Glove and a little cold water. 
Keep your Floor System, a clean Fibre and water Spraybottle handy for big spills! 
19. Be prepared for holiday waste
From packaging, food waste, gift wrap and empty beverage bottles, Canadians see an increase in waste by 25% this year.  Take care in your purchases to reduce as much packaging and food waste as possible!  Be sure your trash, recycling and compost bins are clean and ready to go – the ENJO Outdoor Duoglove is the perfect cold-water clean for these bins!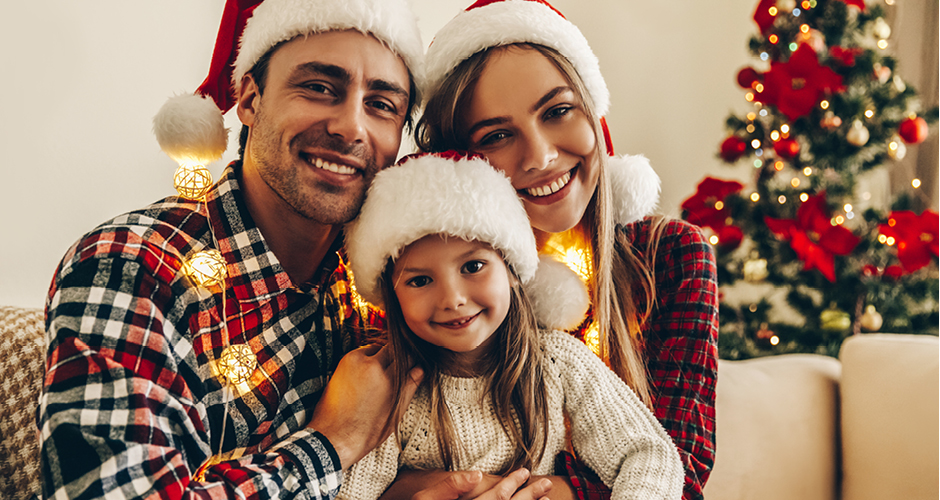 20.

 

Make time for the family — and yourself
As the holiday season can be stressful in many ways, make sure you take the time to connect with your family throughout the weeks of preparing. Aim to hit the holidays with excitement, rather than exhaustion!   Some ideas might be…
Family time – around the dinner table, and choose a family night once a week to play games or watch a holiday movie.

 

A few dedicated hours with your spouse to chat and spend time together.
Time outside for yourself and the family – nature helps to balance out stress!

 

Get a good relaxation or meditation app and spend 10-15 minutes daily being present.

 

Reach out to friends for a chat when you're feeling stressed.
Make this season yours and don't be afraid to say no.

   

Ask yourself each day, what can I do to enjoy this more?

 

#bringthejoy
---

---